Native American Music for Corporate Events & Parties
These traditional and authentic Native American entertainers add beautiful, unique, and spiritual elements to any wedding, corporate event or private party.
---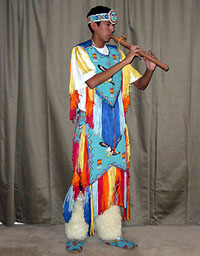 In this spectacular, colorful, Native American performance you will listen to the serene and beautiful Native American flute, and witness the special meaning of this southwest favorite. This artist has delighted audiences with Crystal Gayle, Neil Young, and is a favorite at Willie Nelson's Farm Aid Benefit Concert. He also performs Native American dances, such as the World famous Hoop dance with elegance, precision, and authenticity, keeping The Native American culture alive.
---