Fire Acts for Corporate Events and Parties
People have been intrigued with fire since time began and the infatuation continues today. When you add this visual art form to your event or even make the Fire Performance the main event, your guests will stare in wonder at the creativity before them. These artists are the best in the Valley. Their credits include many national and international corporations. Whether these artists are fire breathing, dancing, or eating, we will bring a presentation of raw light in concert.
---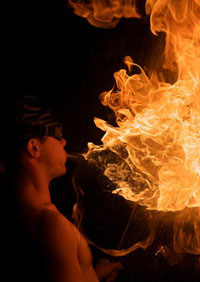 This Fire Artist facilitates fire breathing, fire eating, and many styles of fire spinning in his performance. He has a passion for fire presentation and the creativity and the skill to bring forth innovative ideas into the act, heightening the level of his performance for the audience. He has the tribal, ceremonial, and traditional expertise to provide an exceptional show or facilitate an added splash of entertainment for a Hawaiian Theme. This Fire Artist will take your breath away.
---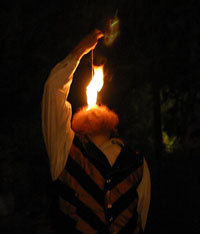 The many styles of fire artistry come alive, as this performer takes the stage with his fire eating, and spinning, literally lighting up your evening. He is a delight to have at Carnival, Mardi Gras, Arabian Nights, and Monte Carlo. With a background in circus performing, his act has a theatrical flair to it and is even more thrilling as your audience is entertained while he performs fire feats on stilts. With his unique talent, augmented by his colorful costumes, this Fire Artist transcends into a most imaginative showman for you and your guests.