High Energy National Band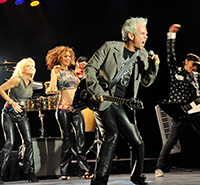 With the option of adding three horns to create an amazing 5-piece horn section, this newly expanded supergroup is a knockout for even the largest of events. Their show is an exciting combination of classic rock and R&B, Motown and disco, swing and standards, plus all the most up-to-date dance music, always performed in an entertaining way that is uniquely their own. They are flashy, energetic, fun, and guaranteed to make you want to dance all night long.
Click Here to Watch Video

Your browser does not support the audio tag.
1999 
Ain't No Other Man 
Always On My Mind 
Amazed 
American Idiot 
Are You Gonna Be My Girl 
Baby I'm A Star 
Bad Girls 
Black Horse In A Cherry Tree 
Bohemian Rhapsody 
Boot Scootin' Boogie 
Born To Run 
Breathe 
Brickhouse 
Burn Rubber 
Celebration 
Crazy in Love 
Dance With Me/Rock Your Body 
Dancing Queen 
Days Go By 
Desperado 
Disco Inferno 
Don't Know Why 
Don't Leave Me This Way 
Drift Away 
Early In the Morning 
Earth Wind and Fire Medley 
Erotic City 
Feel Like Makin' Love 
Fergalicious 
Forever's As Far As I'll Go 
Friends In Low Places 
From This Moment On 
Gap Band Medley 
Get Down Tonight 
Get On Your Feet 
Get This Party Started 
Give It To Me Baby 
Good Lovin' 
Good Times 
Heart Of Rock 'N Roll 
Hey Ya 
Hips Don't Lie 
Honky Tonk Woman 
Hot Rod Lincoln
Hot Stuff 
I Can't Make You Love Me 
I Cross My Heart 
I Hope You Dance
I Knew I Loved You 
I Will Survive 
I Would Die For You 
It's 5 O'Clock Somewhere 
Its Raining Men 
Jumpin' Jack Flash 
Just The Way You Are 
La Bamba 
La Freak 
Lady Marmelade 
Last Name 
Let's Get It Started 
Let's Get Loud 
Let's Go Crazy 
Let's Groove Tonight 
Life Is A Highway 
Listen To The Music 
Man, I Feel Like a Woman 
Mercy 
Misty 
Mony Mony 
Moondance 
Mud On The Tires 
Mustang Sally 
Old Time Rock'n Roll 
Party Train 
Pick Up The Pieces 
Play That Funky Music 
Please Don't Stop The Music
Pride and Joy 
Prince Medley 
Proud Mary 
Redneck Woman 
Rehab
Rock and Roll 
Rock This Town 
Save A Horse, Ride A Cowboy 
Separate Ways 
Sexy Back 
Shake Your Body Down 
She Works Hard For The Money 
Shout 
Since I Fell For You 
Since You've Been Gone 
Smoothe 
Something More 
Stairway To Heaven 
Superfreak 
Takin' Care Of Business 
That's My Story 
That's The Way I Like It 
The Lady in Red 
The One You Love 
To Be Real 
Toxic 
T-R-O-U-B-L-E 
Twist And Shout 
Unchained Melody 
Unforgettable 
What a Wonderful World 
What You Won't Do For Love 
When A Man Loves A Woman 
When Doves Cry 
Whip It 
Whole Lotta Love 
Why Havn't I Heard From You 
Workin' For A Livin' 
YMCA 
You Dropped The Bomb On Me 
You're Still The One 
You've Lost That Lovin' Feelin'